橋本ルル (lulu hashimoto)

glitter-graphics.com
---
@luluidoll
https://luluidoll.booth.pm/
---
With a peaceful & angelic face expression, wearing Lolita dresses, and drawing attention everywhere.
I introduce you to the recent trend: Lulu Hashimoto.

A great idea to modelling and to be the center of attention~

For some people, Lulu is creepy or weird, for others, she is cute and special, very unique in her way.

There is not much to say about her, and no, it is not known who the person behind the doll's mask is.

glitter-graphics.com

glitter-graphics.com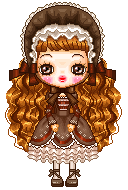 スポンサーサイト
[PR]
[PR]