Japanese illustrator: Kishida Mel (岸田メル)
https://twitter.com/mellco
---

glitter-graphics.com

Mel Kishida is a Japanese illustrator, and his works include both light novel illustration and anime character design. His major works include the character designer of the Hanasaku Iroha anime and character designer for the Arland Atelier game series, as well as being the illustrator of the Heaven's Memo Pad light novel series.
He got a lot of influence from CLAMP's Kobayashi Tomomi, and He likes to portray feelings of gentleness, sentimentalism and nostalgia, which is why he uses a lot of soft colors and fine lines for warmth. Another fact is that it´s very common to see him represent schoolgirls through his art.

And that´s all! there´s no much to say about him, but well, I like his illustrations.
---

glitter-graphics.com
See ya!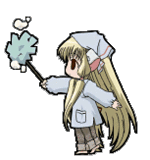 glitter-graphics.com
スポンサーサイト
[PR]
[PR]